Pensacola has a rich and colorful past, lively present, and exciting future. Former Mayor Emeritus Vince Whibbs realized this when he used to say, "Pensacola is the western gate to the sunshine state where thousands live like millions wish they could..." Go Retro capitalizes on the area's diverse heritage by educating and entertaining the public through a variety of specialty tours.
Go Retro utilizes two vehicles. One is a modernized Ford 1930 transit buses--the same type that originally operated in Pensacola during the 1930s and 1940s. It seats 20 passengers. The second vehicle is a Ford 2001 shuttle bus Each is heated and cooled. More importantly, each is outfitted with state-of-the-art video and sound technology.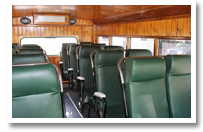 Go Retro works with local subject matter experts to compose tours for the public. Then more extensive research and videography are done. Creative engineers then blend the product together. Go Retro believes that our proprietary virtual guide systems offer superior and consistent, high quality products to patrons. Anyone can look out the window to see a site, for example, but our virtual system might relate what the site used to look like, who built it, or how the landscape has changed. Go Retro prides itself for offering insightful and entertaining adventures. It's one of the most unique Pensacola tourist attraction.
There are three general sales categories: General Tours, Group Tours, and Private Events.
General Tours
These tours are operated out of our depot. The schedule is advertised on the company's website. Patrons should arrive at least fifteen minutes before the tour departs. Children four and under are free. Youth 5-12 are half the adult fare. No children and youth are allowed on the "R" rated tours. Parental guidance is encouraged on any tour that could be questionable. Some vehicles may not be handicap accessible.
Group Tours
For groups of at least twelve, a vehicle can be sent to your location, conduct the tour of your choice, and return the group to the same location. While several tours are listed on the company's website, please contact us for specific requests and to make reservations. Special arrangements and prices are available for children and youth for birthday parties and school events; contact us.
Private Events
Whether you need private transportation to the airport, weddings, soccer game, or to take groups around town, Go Retro can cater to your needs. If desired, our creative engineers can create the perfect music, imagery, or pre-recorded personalized message, which will further impress your guests. If your group travels outside the counties of Escambia and Santa Rosa, additional rates could apply.
Education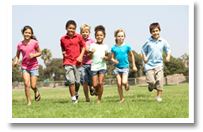 Some tours satisfy specific Florida Department of Education Standards in Social Studies. Depending upon the location, a transit bus can pick the teacher and children up at the school. Interested teachers should inquire with the manager.
Other Kids Adventure tours are designed to educate and motivate children to exercise. Refer to the Kids Adventure tab for more information.
Hours
Go Retro is open Tuesday through Saturday at 9:00 am. Tours vary daily.